Product variation
Airy Floral Scent 2 Pack
Airy Floral Scent 2 Pack
Product Details & Features
Product Details
| | |
| --- | --- |
| Product Name | Raku Hapi Air Conditioner Cleaning Spray Nextplus Airy Floral 2pcs |
| Amount | 420 mL x 2 |
| Country of Origin | Japan |
| component | Surfactant (0.0675% higher alkylamine <non-ion>), stabilizer (ethyl alcohol), disinfectant, deodorant, fungicide, fragrance |
| Others | [Product name] Synthetic detergent for air conditioning fins [Application] For air conditioning fins [Liquid] Neutral |
Features
販売本数1億本突破!
 ※1999年~2020年迄の累計販売本数(1本換算)
2 packs of "Raku Hapi Air Conditioning Cleaning Spray Nextplus Airy Floral Scent"
Thorough cleaning to the back of the fin! !
Easy to clean air conditioner just by spraying.
Contains green tea polyphenol and disinfectant.
Clear deodorization and sterilization.
Reduces mold growth on air conditioner fins.
(Not all bacteria and mold are removed.)
Long vertical spray that can be washed to the back of the fin.
For a more comfortable air environment with clean air conditioning.
Wing head with less fatigue
Airy floral scent
How to Use

Please use one per air conditioner.
Break the claws.
Power off, be sure to unplug the plug from the outlet and ventilate.
Remove the air filter to expose the fins (heat transducers).
Repeat, and shake the can vigorously 5 or more times.
※ If you do not swing enough, the spray may not be mist.
フィンから5cmほど離して、フィンの向きにそってフィンにだけスプレー。
(1本で約90~120秒間スプレーできる)
※ 逆さでスプレーしないこと。
※ 電装部や受信部などに噴射液がかからないように注意!
約10分間放置したら終了。エアコンはいつでもお使いいただけます。
洗浄水は排水管より出てきます。
※ 使用環境によっては、排水されないこともあります。
It can be used for air conditioners with automatic cleaning function.
(* Do not process the sensor or wiring.)
Instruction Video(Japanese Only)
Usage Notes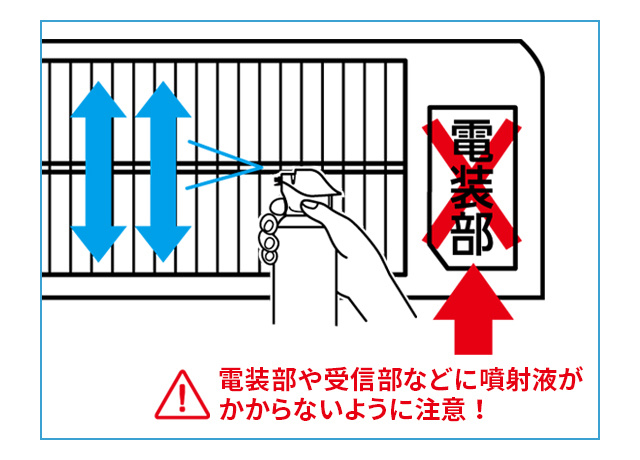 【warning】
Be sure to follow the usage dose.
Make sure that the spray liquid does not get on the air conditioner electrical components (sensors, electronic boards, switches, motors, etc.). If used in an incorrect manner, it may cause a failure of electrical components.
Do not use it for the human body.
People who are prone to allergies or rashes should not touch or inhale medication.
Depending on the degree of dirt and the structure of the water pipe, the washing liquid may drip from the front, so use a towel or old newspaper underneath.
When used near a gas alarm, the alarm may malfunction.
Although drainage may not occur due to the internal structure of the air conditioner or in a dry state, it is not abnormal and is drained together with normal air conditioner drainage.
This product can be used only for air conditioners with a drain pipe type.
[Unavailable air conditioner]
Ceiling embedded type, ceiling hanging type, floor standing type, window mounting type, air conditioner that can not open the cover, car air conditioner
* Cannot be used for outdoor units, vents, and cross flow fans.
[Precautions]
Keep out of reach of children.
Do not use for any purpose other than.
In case of swallowing or getting in your eyes, give first aid and get medical attention from a doctor.
【First aid】
If swallowed, vomit and get medical attention immediately.
If it gets in your eyes, rinse thoroughly with clean water, and if it adheres to your face or skin, rinse thoroughly with soap, and if it is abnormal, consult a physician.
If you feel sick while using, stop using immediately and rest in a well-ventilated place. If you do not feel well, consult a physician.
【Notes on storage and handling】
Store in a cool place out of the reach of children, avoiding direct sunlight and fire.
Do not put the product in a wet or humid place, as it may rust and burst.
【Method of disposal】
Discard after using up.
When throwing it away, pull the injection lever outdoors in a well-ventilated area without fire, degas the gas until the injection noise disappears, and discard it according to the method determined by each local government. At this time, if a toothpick or the like is inserted into the hole on the side of the white spray cap while pulling the injection lever, the injection lever is locked and the gas can be exhausted to the end. If the injection is not sufficient, the injection can be completed to the end by pressing the toothpick or the like. Be careful not to touch your face.
大量に使い残した缶の廃棄方法はお手数ですがアース製薬お客様からお気づきを頂く窓口にお問い合わせください。
[Beware of fire and high temperature]
As it is a flammable product using high pressure gas and dangerous, keep the following precautions.
Do not use near fire or fire.
Do not use it in a large amount in a room that uses fire.
Do not place in places exposed to direct sunlight or near stoves or fan heaters where the temperature may reach 40 ° C or higher, as there is a risk of explosion if the temperature rises.
Do not put in the fire.
Use up and throw it away.
High pressure gas: LP gas
Frequently Asked Questions
Campaigns &​ ​
Special Content