Product variation
Odorless
Odorless
Product Details & Features
Product Details
| | |
| --- | --- |
| Product Name | Raku Hapi Mold Prevention Spray for Air Conditioners Fragrance Free |
| Amount | 350 mL |
| Country of Origin | Japan |
| component | Ethanol, isopropylmethylphenol (sterilization component), green tea carbonization extract / persimmon extract (deodorant component) |
| Effect / effect | Antifungal, sterilization, deodorant of air conditioner fin |
| Duration of effect | 防カビ効果:最長2ヵ月(使用環境により異なります。全てのカビ、ウイルス・菌を除去するわけではありません。) |
| Others | [Product name] antifungal agent for air conditioner fins [use] for air conditioner fins |
Features
Just by spraying, the fungus causing mold on the fin is eliminated and the mold growth is prevented. Antifungal effect lasts up to 2 months. ※
Deodorant component Green tea polyphenol and mulberry extract mixed with W. Clear odors such as mold clean.
ウイルス・菌の除去もできます。
Because you can use the air conditioner to dry immediately after use, you can feel free to use it whenever you feel the odor.
※使用環境により異なります。全てのカビ、ウイルス・菌を除去するわけではありません。
How to Use
Break the claws
Power off, be sure to unplug the plug from the outlet and ventilate
Remove the air filter
Expose the fins (heat exchangers)
缶を振らずにフィンから5cmほど離してフィンの向きにそってフィンにだけスプレー(60~70秒間スプレーしたら完了)
※逆さでスプレーしないこと
You can use the air conditioner immediately after returning the air filter
It can also be used for air conditioners with automatic cleaning function. (※ Please do not process to the sensor part and the wiring part.)
[Indication of usage]
Spray for 60 to 70 seconds per air conditioner (one bottle for about 2 air conditioners)
Usage Notes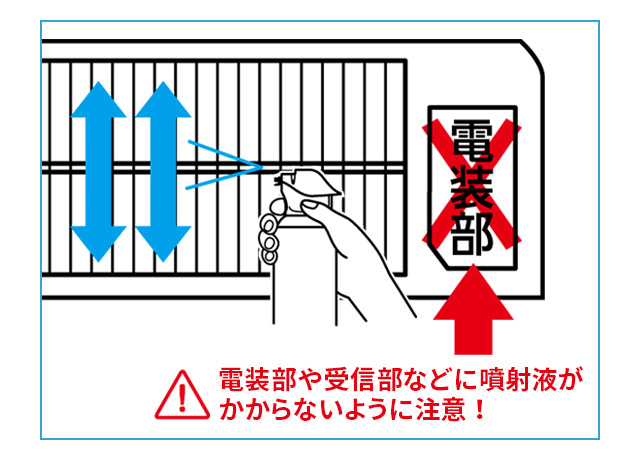 [Precautions]
Keep out of reach of children.
Do not use for any purpose other than.
In case of swallowing or getting in your eyes, give first aid and get medical attention from a doctor.
【warning】
Be sure to follow the usage dose.
Make sure that the spray liquid does not get on the air conditioner electrical components (sensors, electronic boards, switches, motors, etc.). Improper use may result in damage to electrical components.
Do not use it for the human body.
People who are prone to allergies or rashes should not touch or inhale medication.
* If used near a gas alarm, the alarm may malfunction.
[Unavailable air conditioner]
Recessed ceiling type, ceiling hanging type, floor standing type, window mounting type, air conditioner without cover, car air conditioner
* It can not be used for outdoor units, blowers and cross flow fans.
【First aid】
If swallowed, vomit and get medical attention immediately.
If it gets in your eyes, rinse thoroughly with clean water, and if it adheres to your face or skin, rinse thoroughly with soap, and if it is abnormal, consult a physician.
If you feel sick while using, stop using immediately and rest in a well-ventilated place. If you do not feel well, consult a physician.
【Notes on storage and handling】
Store in a cool place out of the reach of children, avoiding direct sunlight and fire.
Do not put the product in a wet or humid place, as it may rust and burst.
【Method of disposal】
Discard after using up.
When throwing it away, pull the injection lever outdoors in a well-ventilated area without fire, degas the gas until the injection noise disappears, and discard it according to the method determined by each local government. At this time, if a toothpick or the like is inserted into the hole on the side of the white spray cap while pulling the injection lever, the injection lever is locked and the gas can be exhausted to the end. If the injection is not sufficient, the injection can be completed to the end by pressing the toothpick or the like. Be careful not to touch your face.
We apologize for the inconvenience, but please contact Earth Corporation
[Beware of fire and high temperature]
As it is a flammable product using high pressure gas and dangerous, keep the following precautions.
Do not use near fire or fire.
Do not use it in a large amount in a room that uses fire.
Do not place in places exposed to direct sunlight or near stoves or fan heaters where the temperature may reach 40 ° C or higher, as there is a risk of explosion if the temperature rises.
Do not put in the fire.
Use up and throw it away.
High pressure gas: LP gas, nitrogen gas
No fires
Frequently Asked Questions
Campaigns &​ ​
Special Content