Product variation
Jouro head 2 l
Jouro head 2 l
Product Details & Features
Product Details
| | |
| --- | --- |
| Product Name | Earth Kamairazu Weed Killer Shower 2l |
| Amount | 2000ml |
| Country of Origin | Japan |
| component | Glyphosate isopropylamine salt [isopropylammonium = N- (phosphonomethyl) glycinate]: 1.5% bromacil [5-bromo-3-secondary butyl-6-methyluracil]: 0.75% mecoprop P potassium salt [(R) -2- (4) -Chloro-o-tolyloxy) potassium propionate]: 0.30% water, surfactant etc .: 97.45% |
| Duration of effect | About 4 to 6 months ※ It varies according to soil condition and weather condition. |
| Others | Types of pesticides: glyphosate isopropylamine salt, bromacil, mecoprop P potassium salt solution, [property] pale yellow clear water-soluble liquid |
Features
It is usable without dilution
Fast-acting (2 to 3 days start to work ※ 1)
※ 1 Some weeds are hard to wither.
Sustainability (4 to 6 months can not grow ※ 2)
※ 2 Depends on soil conditions and weather conditions.
Works well for persistent sugina
With jouro head
Withers to roots withers without evenness
How to Use
Standard of use
Approximately 2 seconds to 1 m2 ※ 45 ml scatter
Scattering method
When opening the cap, the jouro head may rotate at the same time. Hold the base of the cap and turn it counterclockwise to remove the cap.
Please spray it to the place you want to wither.
※ If it is difficult to take out the spray liquid, lightly press the side of the bottle.
Applied weeds and usage
Crop name
Trees etc
Application place
Parks, gardens, banks, parking lots, roads, sports fields, residential areas, etc.
Applied weed name
Annual weeds, perennial weeds
Use time
Before weed outbreak, weed growth period
amount to use
[Annual weed] Before weed outbreak: 40 to 80 ml / m2, weed growing season: 20 to 60 ml / m2
[Perennial weed] Weed growth stage: 30 to 60 ml / m 2
Number of times this drug has been used
Within 2 times
How to Use
[Annual weeds] 40 to 80 ml / m2 before weeds outbreak: Full-area soil dispersal on surrounding land such as trees except planting site
Other than the above: Weed foliage spray or full soil dispersal on surrounding land such as trees except planting site
Total number of uses of pesticides including glyphosate
Within 3 times
Total number of times of use of pesticides including bromacil
Within 2 times
Total number of times of use of pesticides including Mecoprop P
Within 3 times
Depending on the soil conditions and weather conditions (due to low temperatures from late fall to early spring, rain immediately after spraying, etc.), the effect may be uneven.
Some weeds are hard to wither.
Instruction Video(Japanese Only)
Usage Notes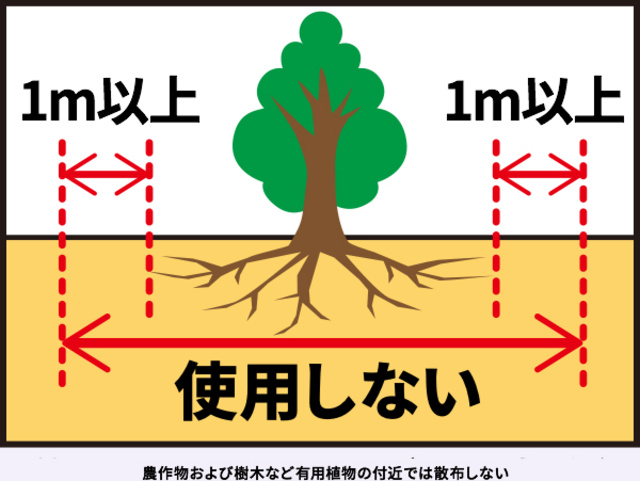 【Attention on effects and drug damage】
The application period of this agent is before weed development and weed growth period (plant height 30 cm or less), and it is less effective for weeds which have grown, so it is dispersed so as not to lose time.
Do not use where there is a risk that the medicine will flow into or scatter on the planting site such as trees.
Because the drug is absorbed when it is absorbed from the leaves and roots of plants, it is expected that the drug will enter the paddy field and waterways where it may be used for paddy fields, and where useful plants such as agricultural products and trees are expected. Do not use near.
Do not use it on slopes or sandy soil, as there is a risk of drug damage from spillage of this drug.
No useful plants will be planted at or near the area where the agent is applied.
Do not use in or around facilities such as houses.
Apply with caution so as not to cause harmful effects on useful plants such as trees by scattering or run-off of this agent.
If heavy rainfall is expected to occur, the drug will not be sprayed.
When using this agent, be careful not to mislead the amount used, when it is used, or how it is used.
【Safety Precautions】
Do not spray when you are not in good physical condition.
Be careful of accidental ingestion.
Be careful not to get in your eyes. If in eyes, rinse immediately (slight irritation).
When spraying, wear pesticide masks, gloves, long pants and long-sleeved working clothes. After work, wash your hands and feet, face, etc. with soap and gargle.
When using in parks, levees, etc., take care, such as putting up a rope fence or a bill so that children and persons who are not related to spraying will enter the spraying area during and after spraying (at least on the day of spraying) Pay attention not to cause damage.
Always store the remaining drug in a safe place.
Do not spray in places where scattering, inflow and penetration of this agent is expected to water source ponds, drinking water, irrigation wells and aquaculture ponds.
Spraying equipment and containers should be cleaned thoroughly, and care should be taken not to pour cleaning waste directly into rivers and waterways, and be treated appropriately so as not to affect the environment.
Do not leave empty bags, empty containers, etc. in fields, etc., and handle them properly so as not to affect the environment.
【Storage】
Seal it tightly, avoid direct sunlight, and distinguish it from food, and a cool place out of the reach of children.
【 Note 】
It also kills useful plants.
Do not use in areas where trees are crowned or rooted, slopes, or when heavy rainfall is expected.
It can not be used on the lawn.
Do not use with other liquids.
Fish toxicity, etc .: Be careful not to scatter or flow into rivers or aquaculture ponds (algae)
Frequently Asked Questions
Campaigns &​ ​
Special Content