Product variation
For bath drainage port Pink slime prevention mildew proof plus
For bath drainage port Pink slime prevention mildew proof plus
Product Details & Features
Product Details
| | |
| --- | --- |
| Product Name | Raku Hapi Bathroom Drain Mold Prevention with slime inhibiting agent |
| Amount | 1 piece |
| Country of Origin | China |
| component | Allyl isothiocyanate (wasabi-derived component) |
| Duration of effect | About 2 months |
Features
排水口に置くだけで、ピンクヌメリ・黒カビの原因菌を徹底除菌し、発生を防ぎます。(全ての菌を除菌するわけではありません。)
As it is an active ingredient derived from food, it can be used with confidence. (Does not use chlorine)
It is a container that uses a "smooth drainage system" that does not hinder drainage easily.
約2ヵ月用(浴室内の温度や換気条件などの使用環境により効果や持続は異なります。)
How to Use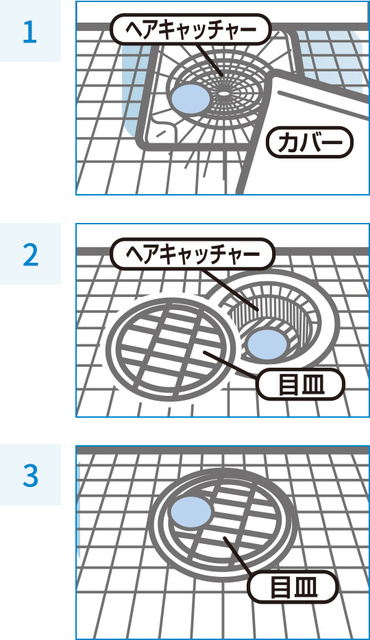 Before use
Remove noticeable pink stains and black mold to enhance the effect.
中に入っている透明の袋から本品を取り出します。(成分の揮散が始まります。成分は容器を通り抜けて揮散します。)
※開封時に目や鼻に刺激を感じることがあります。顔から離して開封してください。
※万一、袋内が濡れていた場合は開封せずにアース製薬お客様からお気づきを頂く窓口までご連絡ください。
Please attach the attached replacement indication sticker to this product.
Please use according to the type of outlet.
※ Not all drainage outlets can be used.
カバーの内側にヘアキャッチャーがあるタイプ
ヘアキャッチャーの上かその付近に本品を置き、通常通りにカバーをセットしてご使用ください。
A type with a hair catcher inside the eye plate
Place this product on the hair catcher and set the eyeglass as usual.
There is no hair catcher inside the eye plate
Please put it on the end plate and use it.
※ The product may be drained to a place other than the outlet due to the water flow. Please return it to the original place and use it.
Usage Notes
Keep the product label so that you can read it as needed.
【Something you can not do】
Please do not use it for any other purpose.
Do not remove the contents from the container as the contents are very irritating.
If you accidentally put this product in your mouth, rinse it well with water. If it gets on your skin, wash it thoroughly with soap. If there is any abnormality, please consult your doctor.
You can not eat this product.
[Other notes]
Please use immediately after opening the bag.
If you feel unusual, such as feeling sick during use, please ventilate. (In particular, there may be a lot of components volatilized for several days after the start of use.) If something goes wrong, discontinue use and consult your doctor.
使用中および排水口の掃除をする際、本品が排水管に流されないようにご注意ください。
Please be careful not to apply chlorine bleach directly to this product.
Do not put this product close to copper or iron products, as rust may occur.
[Precautions regarding storage and disposal]
火気、直射日光、高温を避け、子供の手の届かない所に保管してください。
After use, please dispose according to the method of each local government.
This product is not a removing agent for pink slime or mold remover. It is a product that makes it difficult to grow pink stains and black mold.
Frequently Asked Questions
Campaigns &​ ​
Special Content