Product variation
60 days cordless
60 days cordless
Product Details & Features
Product Details
| | |
| --- | --- |
| Product Name | Earth No-mat 60 days set Cordless |
| Amount | 1 instrument + 1 bottle of medicine for 60 days |
| Country of Origin | Equipment: China / Drug bottle: Japan |
| Active Ingredients | Metofluthrin (pyrethroid) 148.5 mg/bottle |
| component | No. 1 kerosene, liquid paraffin |
| Effect / effect | Control and control of adult mosquitoes |
| Duration of effect | 60 days using 12 hours a day (totally about 720 hours) |
See the instructions enclosed with the product
(PDF:677KB)
Features
Because there is no code, it is refreshing!
Compact size that plugs directly into a wall outlet. Because it is an underplug design, the bottom outlet can be used. In addition, the entire instrument is slightly illuminated with the switch on, perfect for interiors. A set containing one appliance and a replacement bottle of hypoallergenic and unscented type that lasts for 60 days when used for 12 hours a day.
For mosquitoes Earth No-mat
Earth No-mat This is amazing!
Firmly control mosquitoes:
In order to spread the medicine to the corner, I drop mosquitoes in the room firmly.
Also prevent intrusion:
You can also prevent mosquitoes from entering the room from the outside.
It works even if you open the window:
As the drug volatilizes stably, the effect lasts even if the window is opened.
There is no waste:
Switch ON only when you want to use! There is no waste that uses too much medicine.
Energy saving design (compared to our company):
Control mosquitoes firmly with less power consumption. It is an ECO mosquito.
Rich lineup of replacement bottles!
Earth No-mat If it is a bottle, combination is free.
Find a recyclable product for this device

How to Use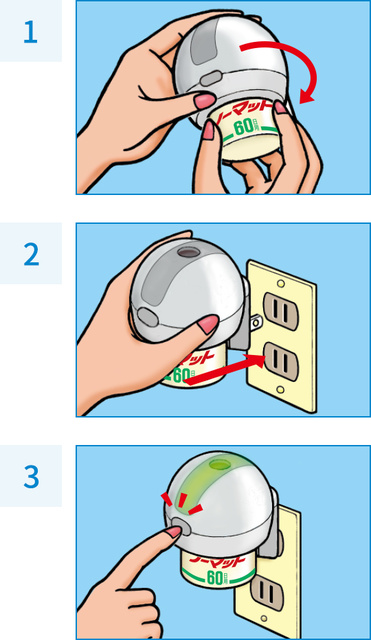 Hold the instrument body, set the bottle with the cap removed from the bottom of the instrument to the threaded part, and turn it until it stops all the way to the right.
Insert the plug into an outlet (power supply).
Turn on the switch.
* You can use the outlet below.
* If the amount of residual liquid is "Replacement Line", it can be used for 1 to 2 weeks. (When conducting electricity for 12 hours a day)
Please read the attached "Instruction Manual" carefully before use.
Keep the "Instruction Manual" in a safe place so that you can read it when necessary.
Usage Notes
[Precautions on Handling and Storage of Equipment]
Use with a household 100V power supply.
Do not use with a table tap.
Do not insert wires or pins into the device. Also, do not touch the appliance with wet hands.
Do not disassemble, repair, or modify the equipment as it may cause an accident or failure.
Turn off the power and wipe the equipment with a dry cloth. Do not use water, detergents or cleaners.
Remove dirt and dust from the device, and store in a plastic bag.
Do not use it on the bottom of curtains or under curtains.
The effectiveness and safety of using bottles other than Earth No-mat bottles has not been confirmed, and there is a risk of ignition or other fire hazards.
【Consulting】
In the unlikely event that your body becomes abnormal or swallowed by mistake, tell your doctor immediately that this product contains pyrethroids and seek medical treatment.
[Other notes]
Be sure to follow the prescribed usage and usage.
Do not touch the core of the bottle directly as it has medicine. If the medicine gets on the skin, wash it thoroughly with soap.
If using in a closed or narrow room, ventilate the room occasionally with caution. Depending on your physical condition or physical condition, it may cause headache, sore throat, discomfort, etc.
People with allergies should be careful to use.
Do not insert a wire or pin into the device or touch the device with wet hands. In addition, do not pour liquids such as water, oil on appliances or bottles. It may cause an electric shock or failure.
During use, the upper part of the instrument and the transpiration port become hot, so do not touch them with your hands or put your fingers in them. In particular, be careful that children's fingers are easy to enter. It may cause burns.
Do not allow children to touch the product during or after use.
Equipment should be used in normal condition and not used sideways, upside down or hanging. Also, do not drop the device or give an impact.
Be careful with fire and keep flames away from you.
Do not put newspapers, futons, blankets, clothes, etc on equipment. The heat may burn and the equipment may deform.
Do not use on thick-piled carpets. If it is used for a long time, it may leak.
Do not place the product where it will be exposed to direct sunlight or where it will be hot, such as on top of AV equipment, as this may cause liquid leakage.
Because the core of the bottle is fixed, do not pull or move it forcibly. The core is broken and can not be used.
In rare cases, the color of the liquid may be dark, but there is no difference in efficacy.
Although the transpiration component may appear as rare white smoke, it is not unusual.
Depending on the operating environment such as wind, sufficient effects may not be obtained.
When the power is turned on, the drug will volatilize continuously, so be sure to switch off when not in use.
Dispose of used empty containers properly.
【Notes on storage and handling】
Avoid direct sunlight and store in a cool place out of the reach of children.
When not in use for a long period of 3 to 4 months or longer, remove the bottle from the appliance and tighten the cap. The remaining liquid can be used in the next year.
If the device is used for many years (7 to 8 years), the possibility of aging may increase. Replace the equipment that you used for many years with a new one.
Each manufacturer of liquid mosquito repellent has a different combination of active ingredients and wick and ring heater temperature. We have not confirmed the effectiveness and safety of using bottles other than the Earth No-mat bottle, and there is a risk of ignition or other fire hazards, so please do not use bottles other than the Earth No-mat bottle. Please note that we cannot be held responsible for any problems that may occur due to improper use.
Frequently Asked Questions
Campaigns &​ ​
Special Content